HI GUESS WHAT

"What?"

I FINISHED THE DRABBLE SHIT

"Wow! Really, all of them?!"

UM WELL MOST OF THEM HERE



"Write me Subaru with a cadbury's egg? ♥"
--
mefiant
IT IS LIKE A DOUBLE SHOT OF DELICIOUS.


"I don't care but I want gay and for it to be TASTY."
--
lazulisong
A request after my own heart. ♥


"RikuSora + Donald. XD And I'm being nice. Mostly cause I have to weedle that game out of you soon."
--
absentaserpis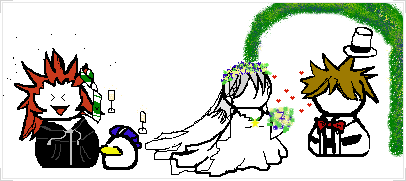 That is Donaldblob, drawn such that I don't get slapped with a lawsuit by Diznee. He and Axelblob are the best man and the maid of honor, respectively. Randomly, did you know that Yen Sid spelled backward is "Disney"? Perhaps Yen Sid is Walt's Nobody.



"What are drabbles? Like...doodles, only written? Kids these days, coming up with new words.... eeeh. BTW, you own me a hyoutei fic. Or a drabble. whatever."
--
nishikaze630


"No, no, nononononono!" Sakaki flung his sheet music about angrily. "It's step-tap-step-tap-left arm-right arm-both-step-tap, not step-tap-step-tap-right arm-left arm-both-step-tap! Do you take me for some sort of fool?!"

"No, sir," came the dull monotone.

"Do you wish to sully the fine art of tap dance with your ham-footed blundering?!"

"No, sir."

"I'll sully your mother..." came a grumble from the back. Luckily, Sakaki seemed to be too worked up to hear it.

"And what happened to the lights?! Did I employ some sort of baboon to do the light cues without realizing it?! Oh, and where did Akutagawa go..."

"A good question, coach." Atobe snapped his fingers, once. "Kabaji, investigate. The rest of you, take five."

"I'll take your fucking five, rassafrassin..." Shishido grumbled, storming off-stage.

Sakaki folded his hands in front of his face, index fingers together and pointed upward, and breathed deeply. "...Keigo, why do they hate me."

"Oh, sir, they don't hate you. They simply do not have my natural talent and ability, and thus are overshadowed by the glittering, blinding radiance that I emit," Atobe explained, logically. He preened a bit; a swarm of sparkles emerged and began to harass the players onstage. "It's not something they can be blamed for."

Sakaki sighed and rubbed his temples. "I suppose you're right. I simply wish for you boys to be the best you can be, to better crush the competition into a quivering, weeping pile of gelatinous pulp."

"And we greatly appreciate your efforts. Ah, Kabaji, I see you've found Jirou."

"Usu," Kabaji replied.

Jirou looked around, a bit dazed. "I was working the lights, and fell asleep...I dreamed I was eating a giant marshmallow. And when I woke up, the spotlight was gone! Weird, huh?"

He burped; a piece of wiring flew from his mouth. Atobe merely shrugged and snapped his fingers.

"Kabaji, have one of the second-years fetch another spotlight. I believe they're in the storage room above the stage."

"Usu." Kabaji seized the nearest second-year--who happened to be Hiyoshi--gave a mighty swing, and flung him above the stage. A fading scream of "gekokujou!"; a thud announced Hiyoshi's arrival in the storage room.

"Do bring one of the older models, yes?" called Atobe. "They give such a classic charm to my features."

"...deeeeeeeath..." came Hiyoshi's rattling hiss of a reply.

Hiyoshi shoved the desired spotlight down to the stage roughly, coincidentally just at the moment Shishido had returned from his water-and-cursing break--the two items collided with an echoing twang!.

"Sempai!" Ohtori cried, racing to his side.

"Dude! If you killed him, I'll give you my lunch money for the week!" Gakuto yelled up to Hiyoshi.

"I like puddles," Shishido announced as Ohtori hoisted him onto his back for an excursion to the nurse's office.

Sakaki hmmed thoughtfully. "No matter, he wasn't cut out for the race of Broadway. Now, from the top, people!..."

--
END.



Drabbles! Yukimura/Sanada, something absurdly gay that Yukimura does. XD
--
rei_kurasaki


"These are our new uniforms?" asked Sanada.

"Yes," Yukimura replied.

"I see no need for further explanation," decided Sanada aloud. "Back to practice!"

"But the lace is so itchy!" complained Kirihara, tugging on the ribbons tying his corset shut.

"And?" Sanada yanked Kirihara's corset strings tighter and shoved him toward the courts. "Yukimura chose them and by hell you will wear them. Back to practice!"

"I assure you that you look adorable, Akaya," Yanagi soothed, placing his hand on the small of Kirihara's back. "Now, did Genichirou teach you how to get out of those corset strings? I would be glad to teach you..."

"I do enjoy the heels," commented Niou, strutting his way about the courts regally.

"Pardon my disagreement, but I don't think we'll be able to play with the nipple rings on," noted Yagyuu. "They're liable to be caught and--"

Yukimura blinked, confused. "Nipple rings? Those weren't part of the ensemble."

Yagyuu halted and paled significantly. "...I...what? They weren't?"

Yukimura shook his head. Yagyuu gulped and looked down at his chest.

"I...I see. Erm. So. That late-night excursion to the piercing shop."

"Wasn't necessary."

"...I see." Yagyuu glared daggers at Niou, who smiled a smile dripping with fake innocence. "I'll have to speak to the person who informed me otherwise."

He stormed off, the black look in his eyes hidden under the glint of his spectacles. Yukimura tapped a finger against his lips thoughtfully, then snapped his fingers. Sanada appeared at his side immediately.

"Yes, Yukimura? Do you need your corset tied tighter? I would be happy to oblige--"

"What are your opinions on nipple rings?"

A glazed look came over Sanada's face, and he began to make soft gurgling noises. Yukimura snapped his fingers in his face, and Sanada started out of his trance.

"I'll take that as a 'yes,'" Yukimura said with a sweet smile. "They'll look smashing on you, I'm sure."

Sanada blinked, confused. "Me? But...I thought--"

"Nope," Yukimura said. A dark smile parted his lips.

The glazed look threatened to return. "I see no need for further explanation," decided Sanada aloud.

--
END.



"*posthumously really really after the fact-ly requests Kuro/Fay with silly hats*"
--
iamsocool12345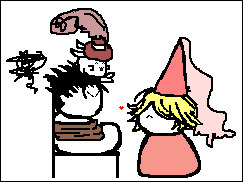 I couldn't think of any good drabbles, so I hope blobs are acceptable? ♥♥♥




And I still have to get
immortality's and
daphnerunning's requests done. Eheh. ♥? This just means that they will be very well thought out and planned crack fics. Which is sort of oxymoronical. That's not even a word.

...have some more fic!

Title: Temporary Help
Series: X, plus plenty of OMG CAMEOS! from CLAMP and otherwise.
Genre: Comedy. Duh.
Summary: Good help is so hard to find these days. Fuuma bravely searches for someone to fill the position left by Nataku while Arashi finishes up macking on Sorata.



---
HELP WANTED: TEMP POSITION IN GOVERNMENT BUILDING. NO CREDENTIALS NECESSARY, FLEXIBLE HOURS. MUST KNOW HOW TO MAKE COFFEE AND CREPES.
---

Satsuki's expression remained steadily blank. "You want me to post this on every job search site on the web?"

Fuuma nodded, hands in his pockets. "We need the extra help around here, with Kazuki gone. The Ise maiden won't be coming to us for some weeks yet."

"01001001 00100000 01101011 01101110 01101111 01110111 00100000 01101000 01101111 01110111 00100000 01110100 01101111 00100000 01101101 01100001 01101011 01100101 00100000 01100011 01110010 01100101 01110000 01100101 01110011 00101110," commented BEAST.

"Right, whatever." Fuuma sauntered out of the room, waving nonchalantly. "I'm sure we'll be able to find someone suitable, with your talents."

Satsuki settled back into her chair and sighed. "BEAST, we should've taken the job on the LiveJournal staff..."

-- DAY ONE. --

"So, I see your pre-interview with my secretary went smashingly," Fuuma remarked, warmly.

"Oh, yes sir! He was very thorough!" Nokoru chirped.

Subaru chewed on his pencil absently, staring off into space. Fuuma patted his head.

"He's such a hard worker. Now, I noticed that you house the Seals on your campus. Pardon me if I sense a conflict of interests. How will this interfere with your work here?"

Nokoru's expression grew dark. "To have my Wish, I will go to any length."

Fuuma smiled. "I see your point. Now, shall we discuss hours and pay rates? I think we'll start you off at twenty hours a week--"

Suoh crashed through the ceiling on a zipline and hit the floor in perfect gymnast stance. After a series of complicated flips and jumps, he stood in front of Nokoru, anger radiating off him.

"Chairman, no matter what you try and do, there'll still be a mountain of paperwork for you at your desk!" He yanked Nokoru up by the scruff. "Even if you destroy the world, there'll only be more because of the property damage!"

Nokoru sparkled at Suoh and batted his eyes. "Oh, Suoh, you always manage to see the fine print in things! I must repay you somehow...perhaps a dinner, just you and m--eeek!"

Suoh hauled Nokoru to the door by the back of his jacket, still fuming. He bowed deeply to Fuuma.

"I apologize for the trouble, sir. If you'll excuse us."

The door slammed shut, and Suoh's angry scolding could be heard even as he marched away. Fuuma sighed sadly.

"Well, that wasn't a very good start to things, was it?" he asked.

Subaru continued to chew on his pencil, blank. Fuuma frowned. Talking to Subaru was like talking to a very drugged cat. Kazuki was a much friendlier secretary; and a more efficient one at that.

"It's too bad I had to kill her," Fuuma mused.

"I know the feeling," Subaru mumbled around a mouthful of pencil.

Fuuma ruffled Subaru's hair, and he hissed in response.

"We got any more applicants today?" asked Fuuma.

"I killed them all," Subaru muttered sullenly.

"Good, good; I wanted to punch out early today anyway!" Fuuma gave Subaru a hearty thump on the back. Being that Subaru weighed roughly the same amount as a wet paper bag, the force sent him thwacking face-down into the desk before him. Fuuma blinked.

"Whoops, sorry about that."

"...," Subaru remarked, simply.

"Yeah, I think we should hold off calling more applicants until tomorrow, too." Fuuma ruffled Subaru's hair again, and elicited another warning hiss. "C'mon, it's karaoke night in Yuuto's bachelor pad, and I need a duet partner! Sakurazuka and I used to bring the house down with our covers of 'Dancing Queen,' you know..."


-- DAY TWO. --

The last night being a hard night of karaoke-ing, Fuuma allowed Subaru a day off. (Meaning, Subaru was far too hung-over to be at all useful. He should've known a wet paper bag would have no tolerance.)

Without Subaru's diligent help, Fuuma continued with the interviews on his lonesome.

"This is a very impressive resume, indeed!" Fuuma held out his hand. "Welcome aboard!"

Watanuki sighed in relief and reached out to shake Fuuma's hand. "Thank you so much, sir! Anything you need me for, I'll be happy to take up."

Fuuma patted Watanuki's hand comfortingly. "After the time you had with your last job, I think we'll just start you off with light filing and crepe-making. Now, you can start tomorrow morning at eight--"

A screen popped up from Fuuma's desk, and a cheery voice screeched from it.

"YOU'VE GOT MOKO-MAIL--!"

Fuuma winced, sticking his fingers in his ears. "Jesus H. Me, how the hell did you get past Satsuki's firewalls?!"

"HAX0R1NG IS ONE OF MOKONA'S ONE-HUNDRED AND EIGHT SECRET TECHNIQUES--!" it replied, piercingly loud. "NOW, PRESENTING YUUKO--!"

Yuuko's very angry visage popped up on screen. "Don't you dare steal my maid, you little--"

Fuuma grinned casually and leaned back in his chair. "Sorry, paperwork's already done! It just goes to show you, the proletariat will rise above the bourgeoisie and achieve fair pay; they need only unionize and revolt--"

"I'VE BROKEN STRIKES BEFORE AND I'LL DO IT AGAIN!" Yuuko roared. "First you steal my customers, then you steal my indentured servant?! I won't stand for it!"

"Don't I get a say in this?!" Watanuki huffed.

"No! Now get back here and finish my laundry!"

Shadows snaked away from the walls and entangled Watanuki, dragging him out of his chair and pulling him through the floor. Fuuma tsked and halted the shadows with a toe-tip.

"Miss Ichihara, can't we act like civilized businesspeople?" he asked. "Perhaps we can work out a joint ownership..."

"Or," Yuuko offered. "I get my slave back, and I let you keep your subscription of 'Ukes In Short Pants Monthly.'"

Fuuma waved good-bye as Watanuki was dragged kicking and clawing through the floor. "Pleasure doing business with you!"


-- DAY THREE. --

"Well, you have a great deal of experience." Fuuma flipped through the pages thoughtfully. "I'm concerned with the rapidity you seem to go through your jobs, however. May I ask if there's a reason you left after such short time periods?"

"..." Touya cleared his throat and looked down. "...well, many of them weren't comfortable with how often a school friend of mine visited during my shifts."

Fuuma nodded sympathetically. "Well, we certainly don't mind visitors as long as they don't interfere with your work. Now, if my dear secretary will give me your recommendations..."

"No," Subaru replied, glaring petulantly at Touya.

"...and why is that?" Fuuma pressed, with unending patience.

"I don't like his name." Subaru sank into his chair, his voice muffled by his chest. "I hate peaches."

"Well, puking out three bottles of peach schnapps will do that to you."

"If there's a problem," Touya interrupted, looking over Subaru warily. "I could submit my references to you through e-mail."

"I hate e-mail, too," Subaru grumbled. "Fucking spam."

"Since my secretary seems to have missed his nap, that seems to be the best option." Fuuma shook Touya's hand and smiled warmly. "I'll have my other secretary telephone you by tomorrow. Won't I, Mr. Frog?"

"Yes he will!" Fuuma made the frog plushie in his hand nod its head eagerly. "I so love working for Kamui! He's so brilliant and, may I add, sexy!"

"Oh, stop!" Fuuma cupped his cheek in his other hand, giggling girlishly.

"It's true!" The plushie pressed a kiss to the back of Fuuma's hand. "I would nail that any day of the week!"

"Oh, you!" Another giggle, then a pause. "Hmm, now where did Mr. Kinomoto run off to?"

"Somewhere," Subaru mumbled. "You do realize that that thing isn't real, right?"

"KAMUI HAVE THEIR NEEDS, TOO, YOU KNOW!" Fuuma wailed, and ran off sobbing to his bedroom.

Subaru shrugged and pilfered Fuuma's desk bottle of peach schnapps.


-- DAY FOUR. --

"Hmm, I see you have much experience with ambiguously evil organizations..."

"As should any worker worth his salt!"

"Last job was terminated due to...death? Well, we're not concerned with such silly trivialities. Experienced with mindfucking viewers with double-agent work..."

"A favored pastime of mine."

"Yet with a sensitive, self-sacrificing, and--dare I say?--romantic side."

"What can I say? I've got layers."

"And fabulous layers they are," Fuuma complimented. "Who is your stylist?"

Axel preened. "You're too kind! I get them done by a friend of mine in this little tropical spot. Your highlights are quite nice, if I do say so myself. The blond really brings out your cheekbones."

Fuuma's eyes flashed sky blue. "I don't have highlights, though you're kind to say. Perhaps it's the lighting?"

Axel blinked. "I...suppose." He shook it off and put on his best grin, kicking up his feet. "Soooo, when do I start?"

Fuuma turned to Subaru for approval. Subaru glanced up through his eyelashes, shyly.

"I like your trenchcoat," he said. "And you don't smell like peaches. I like that."

"Aw, and you're kinda weird! I like that!" Axel punched Subaru in the arm, and Subaru promptly crashed into the floor.

Fuuma beamed and shook Axel's hand. "Welcome aboard! Now, I don't suppose you have experience in consuming large amounts of ice cream? 'cause all of a sudden I have a hankering..."

--
END.


I GET TO BE A LUNCHLADY AT A PRIMARY SCHOOL FOR THE REST OF THE WEEK ISN'T THAT COOL

"No, no, not really."

WELL ACTUALLY you're right, it isn't. Too bad I can't smack 'em. They're still young enough to believe in Santa, though...maybe I can threaten to kill him if they're bad. Ohoho, but I am an idea woman!